A list of teas I either want to try someday, or already tried and plan to get more…this page will probably be updated frequently.
I enjoy exploring teas and herbal infusions of every sort, but usually tend to lean more towards blacks, and sweet or fruity blends.
Camellia Sinensis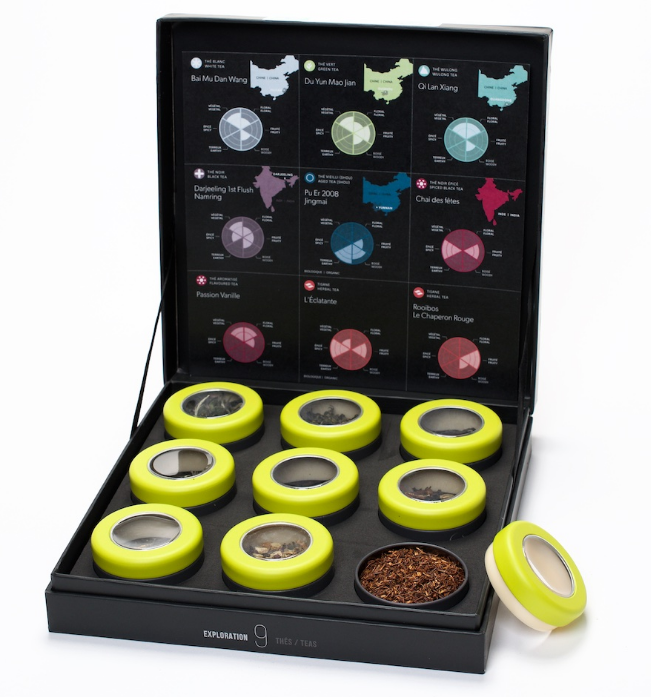 DAVIDsTEA
White Cranberry Bark
The Secret Garden Tea Co.
Buckingham Palace Tea
Creamy Earl Grey
Vanilla Almond Tea
Christmas Spice
French Earl Grey
Irish Breakfast
Plum & Cottage Pear
Gammy's Darjeeling
Milk Oolong
Green Pear Green Tea
Jasmine With Flowers Green Tea
Creamy Caramel Rooibos
Vanilla Rooibos
Provence Rooibos
Teatulia
Black Tea – Loose leaf
Breakfast Tea
Golden Moon Tea
The Great Canadian
Tea Company
Tocha Tea
Celestial Seasonings
Higgins & Burke
Kusmi Tea
Kusmi Tea
WINTERTIME
Assortment

Kusmi Tea
SPICY CHOCOLATE
Black tea with Chocolate and spices

Kusmi Tea
English Breakfast

Kusmi Tea
Earl Grey
Kusmi Tea
FOUR RED FRUITS
Black tea with raspberries, strawberries,
redcurrants and cherries

Kusmi Tea
TSAREVNA
Black Tea

Kusmi Tea
ANASTASIA
Unique Earl Grey Variety

Kusmi Tea
PRINCE VLADAMIR
Black Tea

Kusmi Tea
SPEARMINT GREEN TEA

Kusmi Tea
ST. PETERSBERG
Unique Earl Grey Variety

Kusmi Tea
STRAWBERRY
Green Tea

Kusmi Tea
RUSSIAN EVENING N°50
Black Tea
Tealish
Tealish
CHOCOLATE LOVES STRAWBERRY –
BLACK DESSERT TEA
Tealish
TOASTY ALMOND –
HERBAL DESSERT TEA
Tealish
EARL GREY CREAM –
BLACK DESSERT TEA
Tealish
CHOCOLATE MINT –
GOURMET ROOIBOS TEA
Tealish
ELECTRIC EARL GREY –
GOURMET BLACK TEA
The London Tea Company
The London Tea Company – Earl Grey
The London Tea Company – White Tea, Pear Tatin
The London Tea Company – Raspberry Inferno
The London Tea Company – Peach & Rhubarb
The London Tea Company – London Breakfast
The London Tea Company – Moroccan Mint
The London Tea Company – Raspberry, Ginger & Vanilla
The London Tea Company – Vanilla Chai
The London Tea Company – London Afternoon
Stash Tea
Twinings
Already enjoy:
Earl Grey
Lady Grey
English Breakfast
Irish Breakfast
Pomegranate & Raspberry
Peppermint